Hey.   6 years now I've been scouring hundreds of magazines from the 60s mainly from back to the 30s and up to the 90s.  (1969 IMO was the last great year of advertising...even then it was waning.  Imagine the 'Mad Men' episode set in the 80s!  Yikes!).  
As a photographer (anemic amateur) I have found that I have a keen sense of composition and subject matter when taking and noting a photo/illustrations' 'coolness'.  Everyone has their own idea and sense of what interests them granted, but the ones I have found either actual photos or illustrations are wonderful depictions of stolen scenes.  (not posing).  Here are a few random shots and illustrations. 
The first illustration is a Bernie Fuch's piece from 1960-ish for an article in Saturday Evening Post called, "One O'Clock in the Morning."  A beautiful scene of a couple at the end of a date after a nice walk on the beach smooching behind a pier.   It's so Frank Sinatra; some suave, manly man of the 50s and 60s I grew up around, saw on tv & movies.  She's submissive in a soft, womanly, sexy way.  Such a dreamy way to end a date.  
Here is a photo of a cowboy on a whinnying horse 'Whoa!  Whoa!...When I say Whoa, I mean...WHOA!" waving at his girl friend/wife/mistress who's driving away in a 1959 Ford Fairlane Convertible with the top down in the passenger seat enthusiastically waving back at her boy friend/husband/lover.  Dust kicked up all around, it seems straigh of a modern western movie with John Wayne and Rita Haworth.   It seems romantic and plain fun.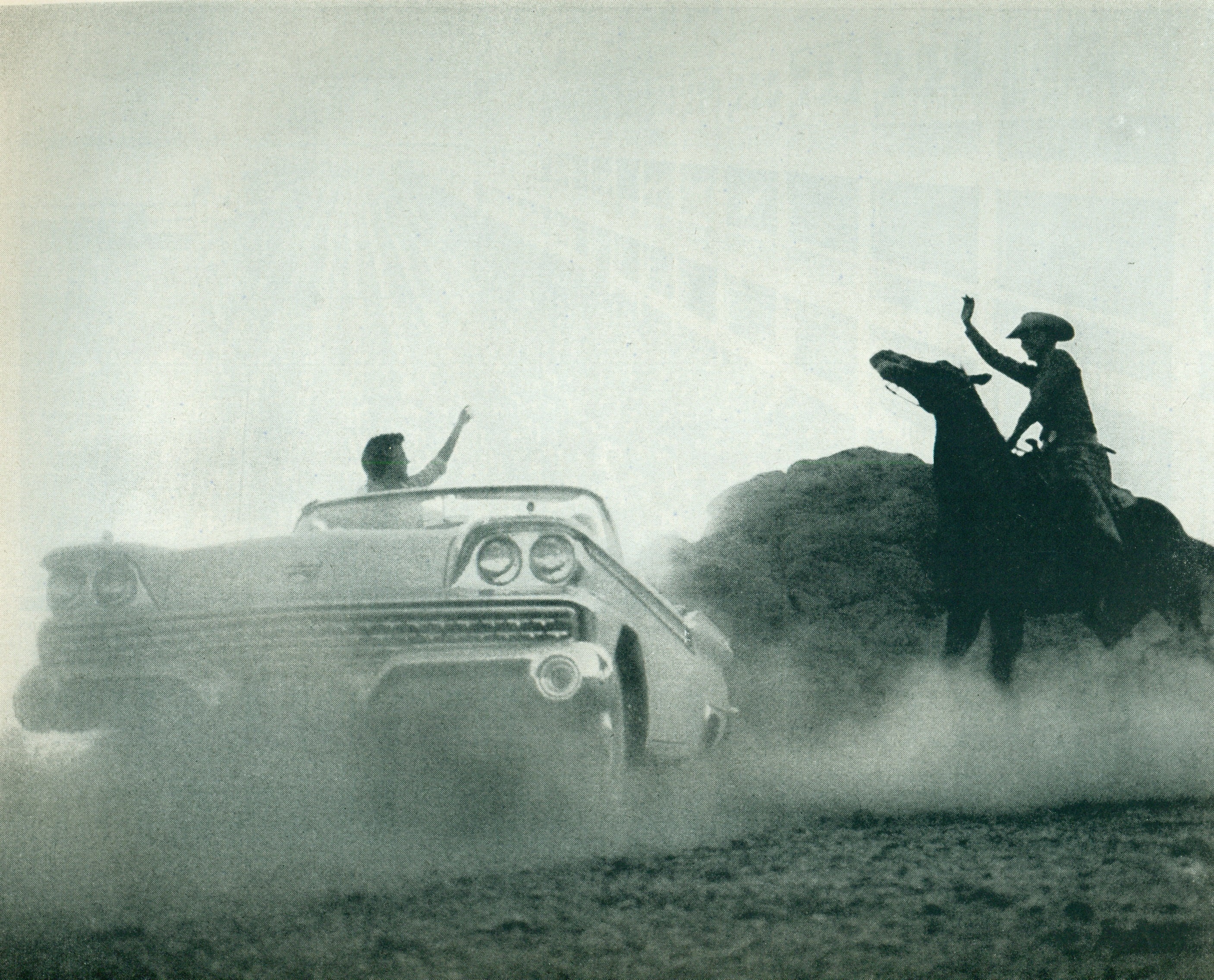 Below is  one of many illustrations from a prolific artist named Charles Schridde.   There is a gallery in his name in Grosse Point, Michigan.  I've sold many of these 2-page illustrations depicting couples together listening to a stereo or most the time watching television.  This on is my 2nd favorite; I love seeing depictions of Westerns on TV.  So... that era.  The main theme of the art are the homes; they're Mid-Century homes, Modern in the drastic architecture shift of the early 60s.  Think Eames or Pei.  They're just cool examples of the fun of these buildings; these living spaces.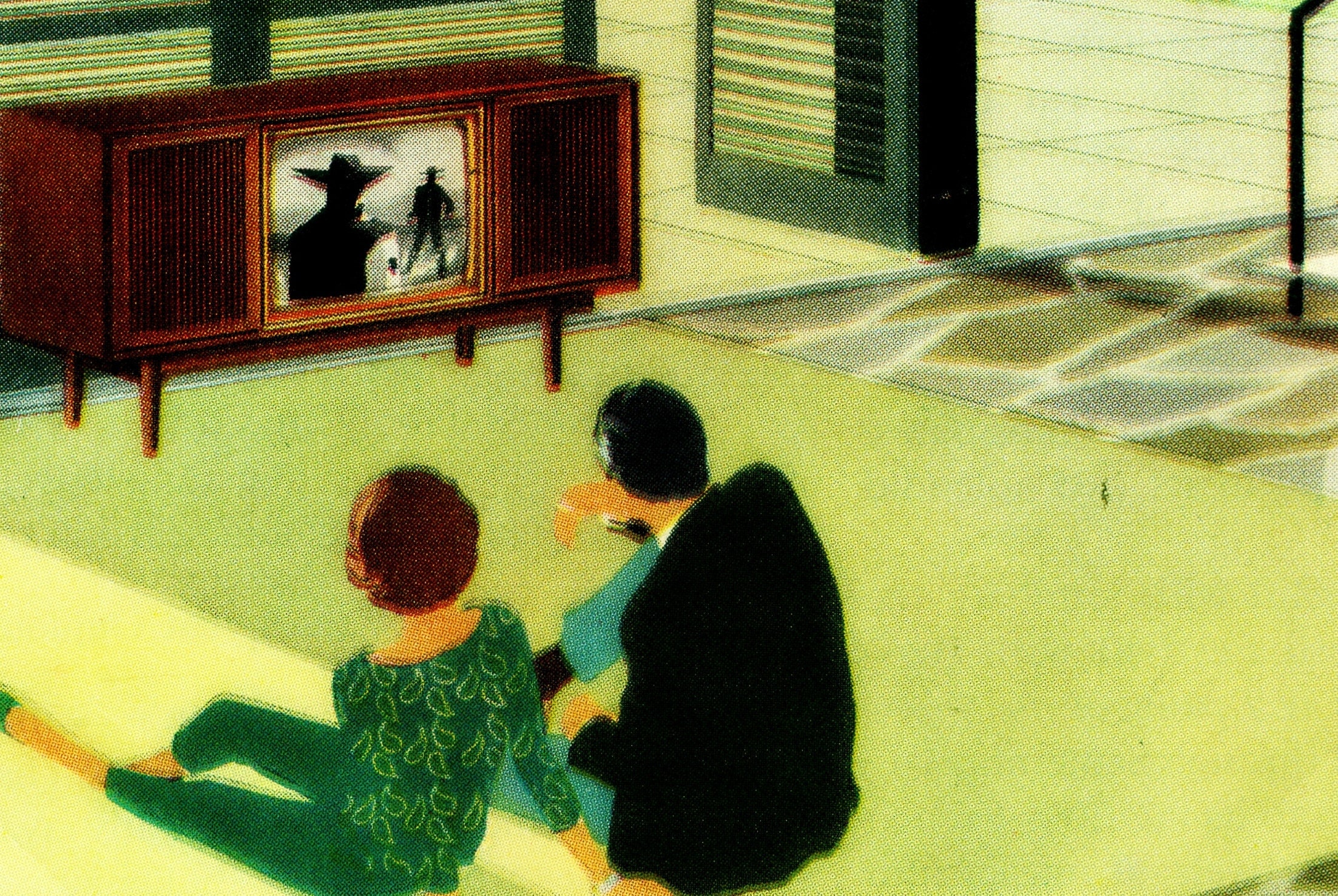 This next picture is just funny to me.  Certainly meant to be and unintentioned way of pointing out something to the student.  But there is a furrowed brow and slight downward tilt of the eyebrows... do you see a smile?  Nope.  And the student has a bewildered look in his eys and open mouth.  I remember those moments!!!  (as a teacher later on, also).   I put this down to 'the internet has ruined me.'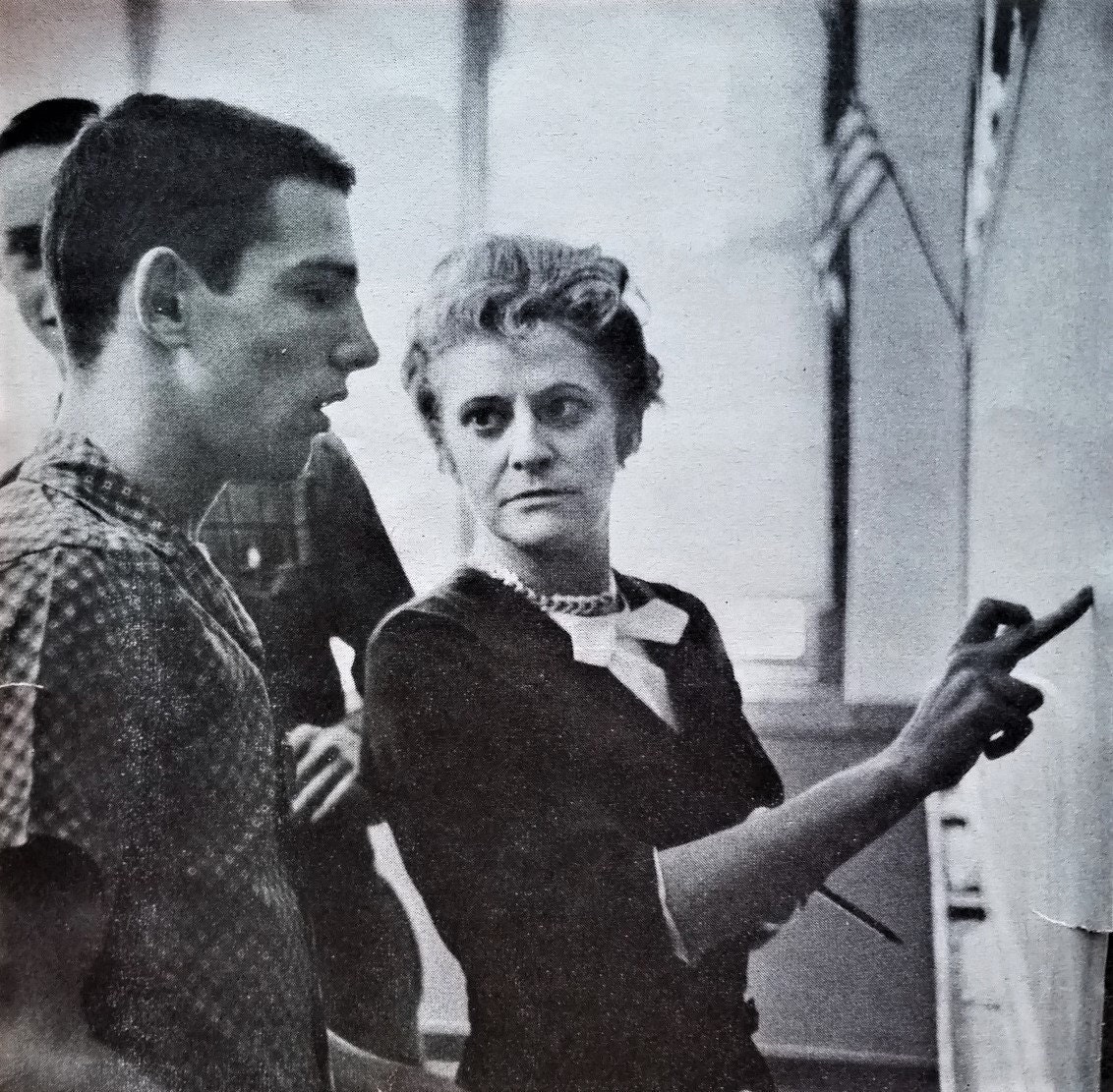 I love discovering new images and ads and thinking how much fun they are and useful for funny cards...or blogs...